state licensed and insured heating and cooling contractors
Advanced Air Solutions is a state licensed and insured heating and cooling contractor located in Hartville, Ohio. For the past two decades, we have committed ourselves to improving air quality in homes and small businesses alike.
Our technicians are certified and possess the knowledge and experience to ensure quality installations and repairs. While working on your property we go the extra mile to protect your items, treating your home or business as if it were our own. We clean up when we're done so that you don't have to.
We guarantee our customers will be satisfied with the service and treated with the utmost care. No matter what brand or model HVAC unit you may have, our qualified air conditioning technicians can do the repairs.
Trane®

 Comfort Specialist™
Not every TRANE dealer is a Trane Comfort Specialist – it's a special designation to the most qualified specialists.
A Trane Comfort Specialist is an independent Trane dealer committed to being the best in installation, service, customer satisfaction, and employee training.
The technicians at Advanced Air Solutions work hard to stay up to date on the latest Trane technology so they can provide the best possible service right when you need it.
Find us on Trane's official website HERE
We take great pride in being the preferred heating, ventilation and air conditioning service provider throughout the greater Akron and Canton area. Your satisfaction is guaranteed.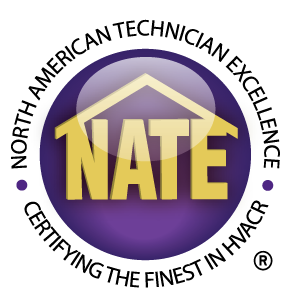 WHAT IS NATE?
Founded in 1997, North American Technician Excellence (NATE) is the nation's largest non-profit certification organization for heating, ventilation, air conditioning and refrigeration technicians. Headquartered in Arlington, VA, NATE is the certification organization that was developed by, and has been supported by the entire HVACR industry for nearly 20 years.
NATE TESTS. OTHERS TRAIN.
NATE certification tests represent real world working knowledge of HVACR systems. Developed by a committee of industry experts nationwide, our NATE exams represent HVACR topics pertinent to contractors, educators, manufacturers and utilities alike. All of the NATE tests are rigorous, multiple-choice, knowledge-based tests and validate a technician's knowledge. NATE candidates may earn Installation and/or Service certification in one or more Specialty areas, including:
Air Conditioning
Air Distribution
Heat Pumps
Gas Heating
Oil Heating
Hydronics Gas (service only)
Hydronics Oil (service only)
Light Commercial Refrigeration (service only)
Commercial Refrigeration (service only)
Ground Source Heat Pump Loop Installer
Senior HVAC Efficiency Analyst
Our customers deserve the best
No lemon guarantee
Trane has more than 120 years of experience in the business. We don't just build our products – we own patents on them. And we don't just test our products – we push them to the extreme. If our product can't make it through torturous testing, you'll never see it in your home. Trane offers a 60 Day No Lemon Guarantee for all Trane Comfort Specialists. This will cover a failed heat exchanger or compressor within the first year.
24-hour service guarantee
We are available to service your furnace and/or air conditioner 24/7, 365 days a year, day or night as well as weekends. We have highly trained technicians on call 24 hours a day. Our technicians show the utmost respect for you and your home by wearing shoe covers and taking the time to make sure that their work area is as clean or cleaner than when they arrived. All of our technicians are background checked and randomly drug tested to ensure that we only send the most trustworthy and responsible technicians in the industry. Our technicians also undergo continual education and are certified in the industry.
Workmanship guarantee
Our installers are highly skilled and are expected to perform at the highest level. They will make sure that you are completely satisfied with your installation and that you are educated on how your new system operates. Our installers, as well as our service technicians, are always expected to be polite, courteous and treat your home as if it was their own. They will never smoke or swear in your home. They are expected to wear their shoe covers and/or put down drop cloths on every installation.
"Due to the extreme cold in northeast Ohio at this time, my furnace stopped working. It was of great importance that this problem gets fixed, as I was babysitting my young nephew at the time. Mr. Franks arrived very soon and diagnosed and fixed the furnace with ease. Not only does he solve the problem, he tells you how to keep it running efficiently and to prevent any future issues or extra expenses. Last fall, he installed an energy saving heat pump in order to cut down my heating costs. My home is now cozy and my nephew is fast asleep in his crib. "
Sandra Beachy
North Canton, Ohio
"Mark has been taking care of my heating and cooling needs for at least 15 years. Not just my personal home but also my mother's and my 10 rental properties. Mark is courteous, friendly, dependable, reliable, conscientious and very customer service oriented. Mark has called if he wasn't able to arrive at an appointed time due to the previous job taking longer or getting stuck in traffic. Mark has never left a job site dirty. "
Debra Queen
Akron, Ohio
"I have had Mark Franks service our HVAC needs at our residence as well as our commercial building in Hartville, Ohio for several years. I would highly recommend Marks' services to anyone who might ask for a reputable professional. Mark is dependable as well as very, very knowledgeable in his field. He has never once steered us in the wrong direction in a diagnosis with one of our units and has never tried to push us to purchase new units unless it was absolutely necessary. He has always fixed the problem without having to buy new units, but when he knows the fix will no longer work, he will tell you straight up what needs to be done. I trust Mark to be able to have him come into my home while I'm at work and do the job. He will call me with his findings and recommendations for my approval before doing any work on any units. We will continue to use Marks' services on any of our future HVAC needs. " Linda Boston
Hartville, Ohio
"Mark was actually a little early for the appointment. He put foot covers on even after I said it wasn't necessary. He was more thorough than I had ever expected and checked every component of my furnace for a defect. He pulled the burner and cleaned it. Checked the heat exchanger for cracks. Pulled the igniter and carefully explained the flaws in it and the possible consequences of not changing it. He adjusted the gas flow and checked the efficiency of the furnace. I am forgetting other work that he did in the almost two hours that he was here. He asked me several times if I had any questions. At $80.00 for the call, I felt his services were a bargain. The igniter was $93.00 and well worth the peace of mind. I feel that Mark is building his business on honesty and integrity and I will recommend him to anyone I know who needs his services. He is also very experienced and knowledgeable. I have great peace of mind knowing that my furnace is operating at its peak! "
Kenneth Wise
Doylestown, Ohio
"Advanced Air Solutions has been a great comfort to me. After my Husband passed away I was afraid of depending on someone to take care of things for me if something happened without being ripped off because of being an elderly widow. I recently had a problem with my furnace and Mark rushed right out and was a very kind man and listened to me ramble on and on. He looked at my furnace and I was very pleased when he told me that the only thing that was wrong was that my filter needed to be changed. I am so thankful for his honesty and will recommend them to everyone I know."
June Susanjar
Akron, Ohio
"I began doing business with Mark Franks several years ago, I am very happy to have found him. Now all my HVAC needs are attended to by Advanced Air Solutions. They installed a 95% efficient furnace and an Aprilaire whole home air cleaner. I'm saving on my gas bills and enjoying much fresher air. They always arrive on time, they are honest, polite and the prices are very affordable. You can't go wrong with Advanced Air Solutions. I will never try another HVAC company"
Dana Smith
Green, Ohio
"I purchased an AC tune-up for my 85-year-old father at 8 PM – who was experiencing a "no cool" situation, and outside temperatures in the 80's. The soonest appointment I could get with the "online scheduling" was two days later, so I sent the owner (Mark) an email explaining my concern with elderly parents and the heat in their house. Mark responded to me within 15 minutes, and was out to my parents' house within the hour! When he arrived, he found the outside condenser completely engulfed in ice and very little Freon left in the system. Mark was able to thaw out the unit, add Freon and a "leak sealer", and had them back up and cooling by 11:00 PM. He followed up on them to make sure the leak sealer had worked, and the system continued to cool. Mark communicated directly with me along the whole process. Exceptional service and I highly recommend his services!"
John Musci
Copley, Ohio
"Mark Franks did an exceptional job installing my new furnace and air conditioning system. His workmanship is impeccable. He is very competent and knowledgeable. I am so pleased with the new heating and cooling systems he installed. I also appreciated his patience in answering my questions and his honesty and politeness. He was on time and called to let me know when he was within 15 minutes of arriving. Mr. Franks took care to protect my carpet with floor clothes and left my basement clean and neat upon completing the work. He also took the time to review the new system with me and told me to call, if I had any additional questions. He even suggested a thermostat that is digital, easy to read and lights up when needed. The job was completed in a timely, professional manner and I would not hesitate to call Mark Franks for future work. I highly recommend Advanced Air Solutions."
Patricia Kreite
Canton, Ohio
"It went very, very well. The appointment was for 9:00 AM and Mark called at 8:50 to let me know he was running 10 minutes late. Who does that nowadays? He was there quickly and went right to work. His professionalism is unmatched: he slipped on "booties" every time he came in the house, he let me know each step of what he was doing and he was very thorough. He also went out of his way to go get some putty to fill in the hole where the line went into the house – way above the call of duty.
I highly recommend Mark and Advanced Air Solutions for any HVAC work you may want to have done. In fact, I'm planning on calling him back in the fall to do the same job on the furnace. Good job by a good man at a good price."
Daniel Bilich
Akron, Ohio
Write Us A Quick Google Review?
We would love to hear your feedback, and Advanced Air Solutions would be incredibly grateful if you could take a couple of minutes to write a quick Google review for us. This will allow us to improve our service and let others recognize the value we provide. We really appreciate your business, support and feedback, and truly value you as a customer.
FINANCING AVAILABLE
Ask us about financing and our very popular Service Plan!
Service Plan
Advanced Air Solutions Annual Maintenance Contract
Annual furnace tune-up

Annual AC tune-up

NO diagnostic fees

FREE diagnostic calls

10% off repairs

10% off equipment replacements

10% off accessories

(Oil Heat is an additional $80)