Want some easy to follow tips for lowering your heating bill?
Here are a few pointers, but remember, contact your local professional and have them set your system up on a maintenance plan. These HVAC "service contracts" are, more often than not, well worth the cost. Not only does proper, professional maintenance improve your HVAC system's efficiency, but it will also reduce your overall costs per year and reduce the risk of having to buy another system while you're still trying to pay off those Christmas bills!
If you just aren't into having a contract, try to schedule annual appointments to have a look at things for safety's sake. Heating and cooling experts recommend scheduling your appointment for a checkup in the fall, just before winter, but honestly, it's never too late. Here is what you can expect from a thorough professional inspection:
• Calibrate the thermostat
• Clean the air ducts (ask if they can clean the dryer vent too!)
• Clean the system of dust and debris
• Perform an amp-draw test
• Check for leaks
• Test for corrosion of the heat exchanger
• Check for blockages and proper air flow
• Lubricate the system moving parts
• Replace the air filter if needed
Before the pros show up though, here are a few things you can do to start saving right now.
1. Reducing Drafts – The quick fix with an even quicker payoff
Going in and out of the house does allow cold air in via the front door, but you may be losing even more heat when that door is closed! Draft proofing is sometimes overlooked by the bigger, more involved, insulating jobs, but sealing leaks in the most obvious of places is the easiest and best way to get things done yourself. Doors, windows, loft and attic hatches, newsletter boxes, electrical boxes, and floorboards could be suspect. Simple weather stripping can be bought at your local hardware store inexpensively. For those areas out of sight, such as the attic or basement, spray foam insulation is a better and more permanent solution.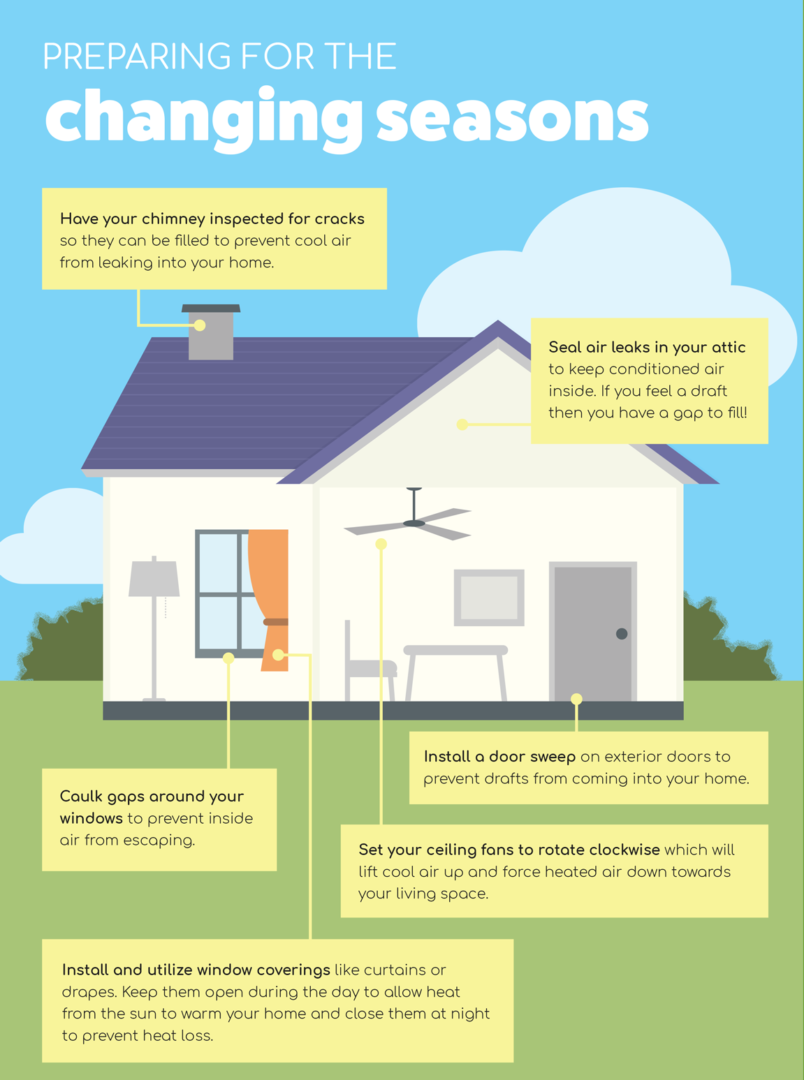 2. The Walls
It's a widely known fact. The number one cause of heat loss within the home comes from poorly insulated walls. Yes, like 35% of it.. A lack of insulation, holes in the walls, vents that haven't been installed correctly and more, all contribute to the problem. Note: re-insulating your walls may also be the hardest to fix because you will need to call a professional. Thankfully, it might not be as expensive as you think thanks to newly improved technologies. Simple cavity walls (most anything built after the 1930s) can be professionally injected with a foam insulator, stopping that cold in its tracks!
3. Maybe it's the roof?
Remember, heat rises. Always check your attic and roof for leaks or holes, seal and insulate those leaks with the above named DIY options. The upside? It's a lot cooler this time of year so you won't break a sweat up there.
4. Lastly..
Not using a room? Close the vents and close the entryway. Your furnace is on to deliver heat to you and your family, not the 2 spare bedrooms!
Try not to place your sofa or easy chair next to windows or sliding glass doors.
Open curtains on your south-facing windows during the day to allow sunlight to naturally heat your home, just remember to close them when the sun goes down.
Seal out the cold with heavy duty plastic sheeting on the windows you don't use for sunlight
Set your water heater to 120°f. You'll save money in the winter, and you won't burn your hands in the summer.
Watch your thermostat. Aim for 68° f. For more on our thermostat tips click here
Wrapping up: hopefully this short list of to-dos' will help you save some heat and keep your wallet happier. Interested in that service contract thing?
Click here!